The cultural program is sponsored and hosted by Grameen Sneh Foundation.
About the organization:
Grameen Sneh Foundation is a registered non-governmental Organization established with a zealous endeavor of striving endlessly towards the welfare of poor people underprivileged cancer patients, without distinction of caste or religion. Grameen Sneh Foundation,established in the year of 2009, with the mission to provide improved quality of life to every individual through sustained change in their social, physical, economical status with special emphasis on the rural people and most vulnerable section of the society like women, children and elder people.
Grameen Sneh Foundation is working towards the Cancer Awareness Programmes which is designed to develop a culture of health at our society, create awareness, and ultimately reduce the participants' risk of cancer through early detection and intervention. We use participant demographics, claims history, and proprietary data-management tools to assess the specific needs of the health plan population and develop a Cancer Awareness program that fits our society.
The cultural event for the Ro-MAN 2019 conference includes the following parts:
1. Ianugural Dance on the Theme of Hausla-Fight Against Cancer, dedicated to cancer warriors ("YE HAUSLA HUM NAHI CHHORENGE…………..") (Duration:-10-15 Min)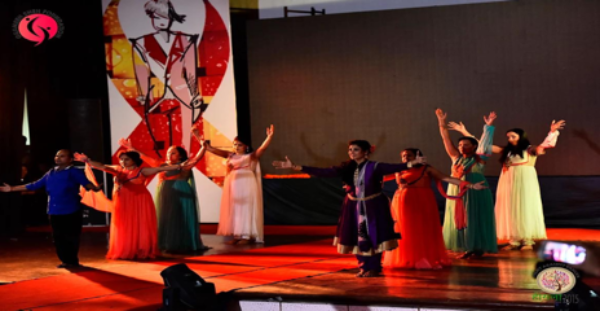 "Hausla" which in English translates as Courage is an annual programme organized by Grameen Sneh Foundation every year in different cities of India. As the name suggest, the event provide platform to cancer survivors for sharing their experience with other cancer patients in order to instill courage in their heart during their fight against this deadly disease – Cancer. HAUSLA' is a national move against cancer and it motivates Cancer patients and survivors and is a sustainable and informative campaign against cancer. In HAUSLA people are awared of various know abouts and ways How to prevent Cancer. HAUSLA supports cancer survivors emotionally, physically and mentally. Cancer patient's Mind, Body and Soul as a whole is emphasized in HAUSLA.
Till date Grameen Sneh Foundation has organized almost half a dozen such programmes under the banner "Hausla" across various cities. Many celebrities, Eminent personalities Bollywood actors in the likes of Dr. Sonalman singh, Manisha Koirala, Shatrughan Sinha, Manoj Tiwari etc. along with famous artists, writers senior bureaucrats, doctors amongst other participated in the event.
The programme comprises of Fashion show & Theatre Act by Cancer Survivors Awareness programme for attendants and cancer survivors including the Display of Art, Painting and other natural activities prepared by cancer survivors. The last in its series was organized in year 2018 in New Delhi where more than 1000 Cancer Survivors & Cancer patients participated and got benefited.
2. Odissi Dance (Duration:- 25-30 Minute)

Odissi dance is one of the invocatory dance form of Orissa. It has originated from the word "Udra" means Utkal. Devi shakti is one of the prominent dance feature of Indian classical dance. On this particular dance from we offer our salutation to "Aadi shakti", maa Durga for her divine incarnation on the earth to destroy the demons. The Hindu goddess Durga is a unified symbol of all Divine forces and is said to have manifested when evil forces like "Mahinsasur" threatened the very existence of the gods. As a goddess, she is omnipresent. She represents the personification of universal mother and as the embodiment of power and also as symbol of peace.
The proposed dance form will be choreographed by Guru Sri Chandrakant Sutar.
3. Bihar Darapan (Duration:-25-30 Minute)

Bihar represents a pious image of India's cultural consciousness. Lord Buddha, Lord Mahavira and Guru Gobind Singh served as the source of Buddhist, Jainim and Khalsa Panth religion. Transparency in politics, National Consciousness, advance knowledge in Philosophy and Art, led to the first rays of democracy in Bihar. Bihar emerged as the polar star in the map of India. This is the Bihar whose every particle speaks of its glorious history. Great rulers like Samrat Ashoka, jurists like Chanakya, scholars like Banabhatta and astronomers like Aryabhata added to its rich legacy. While heroes like Kunwar Singh and Pir Ali were amongst the early revolutionaries to play the trumpet of revolution here. Mahatma Gandhi chose Bihar as its "Karma bhoomi" and propounded non-violence on this earth. Deshratna Dr. Rajendra Prasad born on this part of earth became the first President of independent India.
We are proud of Bihar, in whose courtyards rivers like Ganga, Gandak, Sonbhadra Phalgu, Koshi, Kamala flows. Its art cannot be confined into mere words. Sati Bihula's folklore in Anga Desha, Vidyapati's juicy stanza in Mithala and Bhikhari Thakur's Videsiya tune in Bhojpur provides a rustic flavor to the music which is distinct and can only be found in this part of the world. The Mahaparava "Chhath" is celebrated with full devotion and piousness. Here we have folks songs for different culture occasion like "Sohar", Panwariya, Kajari, Jhumar, Jhunni etc. This is small reflection of that Bihar i.e. 'Bihar Darapan'
4. Ganesh Vandana (Duration:-10-15 Minute)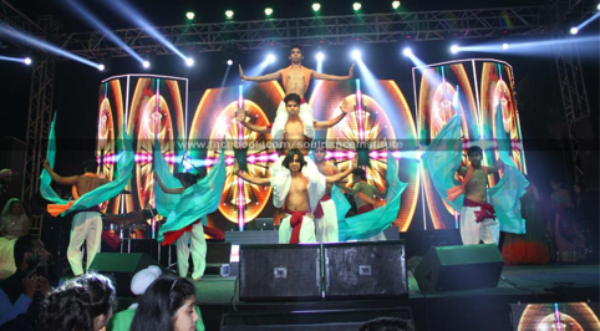 Lord Ganesha (Ganapati) is a well-known god for the Indian culture and tradition. He is the son of Lord Shiva and Goddess Parvati. There can be no auspicious ceremony without the blessings of Lord Ganesha Puja. Hence there is a mandatory custom of worshiping Lord Ganesha before any auspicious work. Lord Ganesha is considered as the dispeller of the obstacles (vighna Harta). As per Puranic stories, Lord Ganesha is easily pleased with devotion. The festival marks the celebration of arrival of Ganesha to earth from 'Kailash Parvat' with his mother goddess Parvati/Gauri. The festival popularly know as 'Ganesh Chaturthi' falls in the months of August or September of the Gregorian calendar. Observations include chanting of Vedic hymns and Hindu texts such as, prayers and vrata (fasting). Offerings include sweets such as "modaka" as it is believed to be a favorite of Lord Ganesh. The festival ends on the tenth day after start, when the idol is carried in a public procession with music and group chanting, then immersed in a nearby body of water such as a river or sea. In Mumbai alone, around 150,000 statues are immersed annually. Thereafter the clay idol dissolves and Ganesha is believed to return to Mount Kailash to Parvati and Shiva.
The festival is observed throughout India, especially in the states such as Maharashtra, Madhya Pradesh, Karnataka, Goa, Andhra Pradesh, Kerala, Telangana, Odisha, West Bengal, Gujrat and Chhattisgarh and is usually celebrated privately at home in Tamil Nadu. Ganesh Chaturthi is also observed in Nepal and by the Hindu diaspora elsewhere.